I spent some time in San Francisco a few weeks back seeing the sights with the family. On the last day before we headed home, I went with a fellow music loving friend to Ameoba Music on Haight Street. I remembered visiting Haight Street 15 years before. Back then, there were at least four major record stores on this street alone. Now, only Ameoba is left with a few smaller discount shops scattered down the street.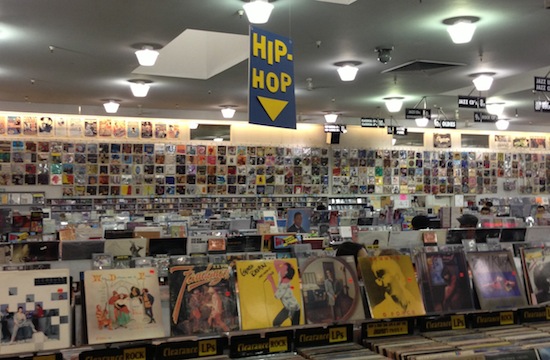 Nostalgia for the Record Shop
Walking in, memories came flooding back. It'd been at least 10 years since I was in a "real" record store. Why hadn't I come in so many  years? Because they don't exist. Yes, there are a few last holdouts like Ameoba but they're only in the big cities and it seems each year, a few more decide to close their doors for good.
I remembered spending hours, flipping through cassettes (records were a "dead" format at the time to me), trying to find a recording I'd never heard of by my favorite band. Every once in a while, discovering some album art that caught my eye and buying it on impulse.
Walking the Store
The place is immense. The record stores I spent time in as a kid would only take up a small corner of Ameoba's expanse. It takes a few minutes of scanning like a panoramic camera to take it all in. I didn't know where to start.
I had long since lost my bias against records and was more fascinated than ever by them so I started there. It took at least an hour to flip through just the Rock section alone. I still had Blues, Country, R&B, Punk, Classical, and several others to go. No to mention the option of heading to CD's, cassettes, posters, and even books on music.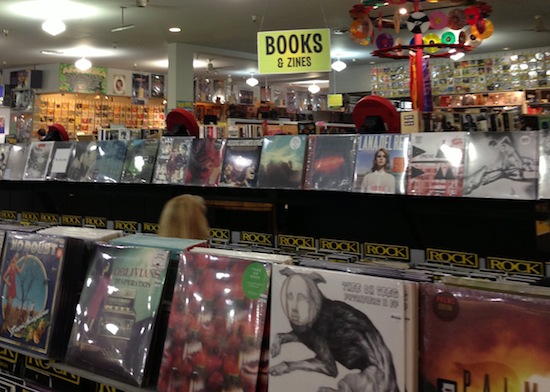 The wall art caught my eye. Every part of visible wall space was covered in posters showcasing bands and albums from every music style and period. I walked the perimeter, continually amazed by the diversity that music has given us. From David Bowie to Merle Haggard, there was something for everyone.
Ameoba is an eclectic music lover's paradise. Beethoven is just a few steps away from Marvin Gay. There's something for everyone and enough esoteric stuff that you might question whether it is actually "for anyone?"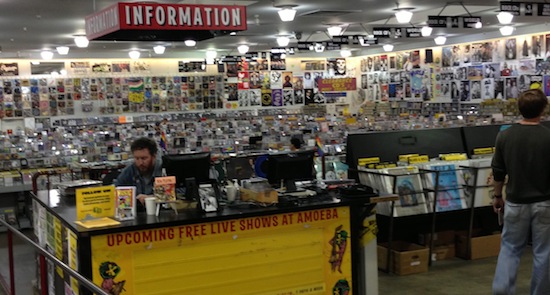 Finding The Ramones
I've wanted a classic Ramones record for a long time. I'd come to Amoeba in hopes of finding it. Sure, I had the music on my iPod but I wanted to experience the tactile feel of holding the real thing in my hands. I searched the Rock records but came up short. I couldn't understand it. A place like this had to have The Ramones!
I went to the information desk and asked the hip music clerk if they had any Ramones records. "Check the Punk section," he responded. I felt stupid. I should have known there would be a separate section for Punk records here (a lesser store would have had The Ramones filed under Rock but in Ameoba, genres still matter).
The End of an Era
As I purchased my treasures and headed for the door, I had to turn around one last time and look. It hit me as if I were wearing a pare of headphones cranked to 11. This might be the last time I set foot in a record store like this. They died many years ago when digital music hit big. Now all that are left feel more like tombs where music pilgrims wander like ghosts of another era.