Since releasing Tales of the Macabre West earlier this week, several people have shared a concern that since they don't have a Kindle eBook reader, they wondered how they could read Tales of the Macabre West's digital eBook. There seems to be a misconception that you need to purchase an Amazon Kindle reader in order to read the digital eBooks you buy from Amazon but actually. that's not the case.
I've got some good news. You don't need a Kindle to read an Amazon eBook.
Amazon has apps for nearly every mobile device available whether it be your mobile phone or your iPad or your Samsung Galaxy. So just because you don't actually own a Kindle, you can still read on any of these devices. Here's what you need to do to be able to read an Amazon eBook on your phone, iPad, or whatever mobile device you have:
1) Download the Kindle app – Download the Kindle app for your phone, iPad, or other mobile device. It's a free app and available on the Apple App Store and Google Play Store as well. (Also available for Windows Phone). Just search "Kindle" on the app store or you can use this link: https://www.amazon.com/gp/digital/fiona/kcp-landing-page
(There's even apps for your computer – both Windows and Mac so you don't even need a mobile device to read a Kindle book)
2) Login to the App – Login to the app using your Amazon.com login. As soon as you login, the app will immediately sync down any eBooks you own to your app, ready for you to read.
3) Buy an eBook on Amazon – If you've already previously bought books on Amazon.com, you will see them in your Kindle app immediately after you login. Any books you buy in the future will be automatically sync'd to your app the next time you open the app. If you haven't bought an eBook on Amazon.com yet, go find a book you'd like to read by searching for it on Amazon.com.
You'll notice on the right side (if you are logged into your Amazon.com account), that you will see an option to Buy with 1-Click and a drop down to choose which app you want to have this book automatically delivered to (don't worry, you can deliver it to as many devices as you like after it's purchased if you want it in more than one place).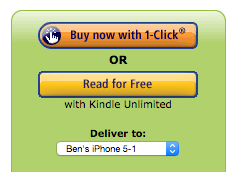 As soon as you purchase the eBook, it will be sent to your Kindle app and you'll see it appear the next time you open the app on your mobile device.
If you'd like to read the eBook edition of Tales of the Macabre West, here's a quick link to get to it on Amazon:
http://www.amazon.com/Tales-Macabre-West-Ben-Hodson-ebook/dp/B00QQL6XEE/