iBooks is Apple's eBook reader. It's available for free on Mac OS X and all iOS devices. You can purchase eBooks from Apple's iBook store but you can also load your own ePub and PDF books into the app using iTunes.
Annotating a Book in iBooks
Tap and hold to highlight a section of text you'd like to annotate in the book you're reading. Using the sliders on the selected text to expand or contract your selection. A menu of options will appear above your highlighted text. Click the right-arrow until you see the Note option.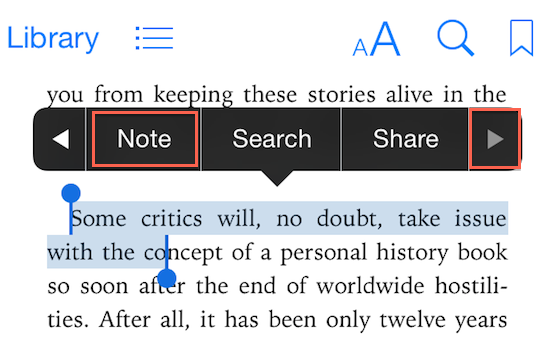 Enter your note below the text you highlighted and click the Done button at the top.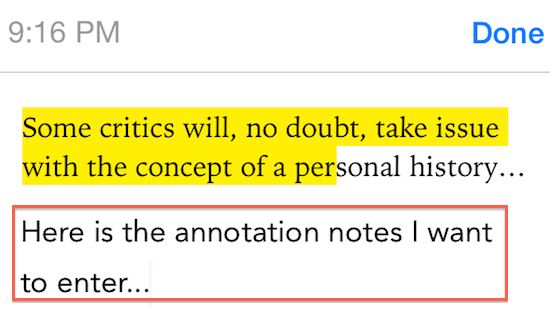 You now see that your selected text stays highlighted and a highlight mark is shown on the right side of the text. You can click this mark to edit your note.

Exporting Annotations
You can export only a few annotations you select or the entire list of all your annotations for a book by first clicking on the chapters icon at the top of iBooks.

Tap on the Notes tab to see all the annotations you've made on this book.

Tap on the options icon and choose Edit Notes so you can select what notes to export.

You can either manually check each note you want to export or you can use the Select All option at the bottom to select all your annotations at once.

After selecting what annotations to export, click the Share button at the bottom.

You can now email or print your annotations.
If you email the notes, they are listed inside the email text along with the selected text.