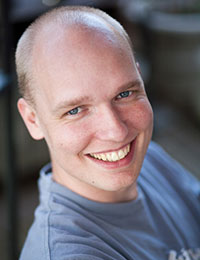 Me In a Nutshell
I have a pile of interests. Every day is a chance to try something new, learn something I didn't know before, and build the list they'll one day write on my tombstone. My passions revolve around writing, music, films, comic books, reading, building businesses, developing software, hiking, surfing, and rock climbing.
I currently live with my wife (LuckyRedHen.com) and two kids just south of Salt Lake City, Utah.
Check out my books
Contact me
Follow me on Twitter: @BenLaneHodson
A Few of My Favorite Books
Some of My Favorite Movies
Favorite Music
I'm just too eclectic to have a list of music. There's a different favorite almost every day. So here are a few of my all-time favorite records:
Heartbreaker by Ryan Adams
American Hearts by A.A. Bondy
Yankee Hotel Foxtrot by Wilco
Some Fun Details
Where I Came From
I grew up in the Pacific Northwest, moving to the Seattle, Washington area during my early teens. I've always been passionate about music so I spent a lot of my teenage years composing songs and writing poetry (and avoiding schoolwork as much as possible).
I had a bit of an obsession with Star Wars (my dad ran projectors for the local movie theater when I was young and I would go up into the projector booth and watch the movies while he worked. I saw Star Wars more than a few times and it may have been burned into my psyche). My first writing I remember (that wasn't schoolwork) was a fan fiction story I wrote to bridge the gap between Star Wars: A New Hope and The Empire Strikes Back (yes, geek blood was already starting to flow in my veins).
Early Publishing Experience
I received a degree in Business Administration and Computer Software Systems from the University of Washington. I was first published in the Washington State Journal of Public Policy my last year of college after being encouraged by a professor to revise and submit a paper I had turned in as part of an assignment.
The paper advocated making Business Ethics a required college course for all business majors (man, we could use that today). It was the first time I realized how difficult and rewarding writing is. I was gratified to finally have my writing out in the world.
Entrepreneur at Heart
I've always had a passion for building organizations. After college, I spent the next 15 years starting and running various companies including Venafi (a security software company), RepeatSys (a software consulting firm), CrankLeft (an entertainment company), and most recently JobNimbus (an easy-to-use CRM software company).
My time was spent reading technical journals, writing patents, and coding. My publishing output during this time included several patents relating to ways of managing digital security and encryption. This is what earned me my "nerd" card.
My Love for Music
I learned piano at a young age and taught myself guitar in High School. We put together a band and I recorded my first album when I was 17. We released (what was very rare at the time for an amateur high school band) a CD under the band name Honeysuckle (we sounded a bit like 10,000 Maniacs).
Bored with Rock & Roll (rock is dead after all), I started a bluegrass / alt country band "Railyard." We cut a self-title album in 2010. The album is also available digitally. We're really proud of the song writing and harmonies on that record.
Get the Railyard album on iTunes
CrankLeft – Just Make Art
If computer programming earned my "nerd" card, then starting CrankLeft definitely earned my "geek" card. I'd thought about writing a comic book since I first discovered them but it wasn't until I read Alan Moore's From Hell that I was inspired enough to dig in. Looking at the comic publishing landscape, it was clear this was going to have to be independent.
So in 2009, I co-founded CrankLeft (a collaboration with other artists to create & publish comics, films, music, apparel, and books). CrankLeft became a place to do whatever art interested me and just "try out" different art forms. Learning the publishing ropes has been a blast. CrankLeft truly is a creator's dream.
8-Bit Comic Series
I've loved 8-Bit games ever since I picked up a joystick and played my first Atari game on my little black & white TV set as a kid. Today's games are much more advanced in terms of graphics but sometimes I wonder if the gameplay gets lost in all of the showmanship.
It occurred to me that games today almost always require a deep backstory with movie-like characters. But classic games like Pac-man or Donkey Kong had to rely almost entirely on gameplay mechanics.
8-Bit was conceived with the idea, "what if the classic 8-bit games had deep backstories? How would you explain Pac-Man for instance if it were realistic?" Daniel Szilagyi's art brought the story to life and 8-Bit was born as a collection of eight stories that spoof classic game concepts and all combine to tell an overall story arc.
Shutter Comic Series
There's a darkness, a grittiness, and a melancholy feeling to the romanticized old west of the United States in the 1860's. I spent months reading every book I could get my hands on about the time period. I became enamored with the bizarre stories and historical characters of the time. It was a different era when laws either weren't clear or did not yet exist for some.
Centering on a camera that can take your soul as well as your picture, Shutter mixes horror and suspense into an epic story of the old west. Michael Hammons' bold artwork made Shutter a compelling world in which to tell a story of American expansion, Native American heroes, and even include some historical characters.
Bukeey Comic Series
I came across a first edition printing of the Boy Scouts of America Handbook (1911). It featured scouts in epic poses, boys against nature, doing things that kids today wouldn't dream of. I was struck by how much more adventurous it felt when compared to the current handbook.
I'd also wanted to have a Native American as a main character. I wanted to do something for kids that was humorous and whimsical. Combining all these concepts,  Bukeey the brave buffalo boy was created. Chad Bever got excited about the idea and his art made Bukeey really work.
Marooned (Screenplay & Short Film)
I wrote my first screenplay in early 2011. I spent a lot of time learning the format and discovering the differences between screenwriting and the other formats I had written in. I love Rod Serling. I adore the classic Twilight Zone episodes (especially the ones Rod wrote). I wanted to do an updated Twilight Zone episode as a short film.
We got excited enough about the Marooned screenplay to actually shoot it. After several months of preparation, we ran a Kickstarter campaign and were funded. On $1,500, we were able to create a 15-minute Science Fiction short film including over 100 special effects shots. We built real models, a spaceship set, and used very little CG. Marooned was submitted to film festivals in 2012 and won several awards including the gold award at the Texas Film Festival and official selection at both the Phoenix Comic Con and Boston Sci-Fi film festivals.
Watch Marooned (the entire film is now online for free)
The Evil Leading the Blind (Short Story)
Inspired by the world created in Shutter, my first short story "The Evil Leading the Blind" was published in the March 2013 issue of Creeps Magazine. The story is also included as supplemental content in Shutter Issue #1.
This story was the inspiration for my forthcoming novel and will be included in the novel as one of the stories. It's a suspense & horror story involving a young boy who is blind, yet he can still see creatures in the darkness of his vision.
Fun fact: the main character of this story has the same name as my great grandfather: Frank Gunn Roberts (what a cool name!)
Tales of the Macabre West (Book)
My first book is a collection of five western / horror stories about death, set in the American old west. It was published in December 2014.